What Are The Benefits of French Doors?
If you are looking to transform your living space and create a seamless transition between your indoor and outdoor areas, French doors may be the perfect addition to your home. French doors have become increasingly popular in recent years, thanks to their timeless beauty, functionality, and ability to let in natural light.
But what is it that makes a door quintessentially French? Let's explore. We'll also look at the suitability of French doors for different properties, the best material for them, and where to find high-quality uPVC French doors for your property.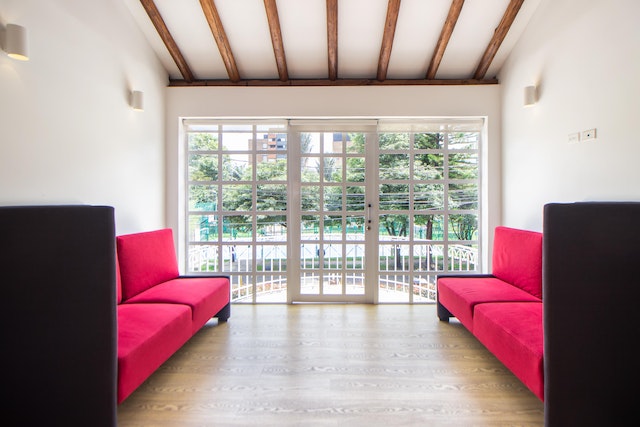 What makes a door a French door?
French doors are characterised by their double doors that open outward or inward. They are typically made of wood or uPVC, and they have glass panes throughout their length, providing ample natural light and ventilation to the room.
French doors usually feature a mullion, which is a vertical bar that separates the two doors. You can remove the mullion to create a larger opening — which is great for creating space when entertaining or bringing in large pieces of furniture.
Where did French doors come from?
As the name suggests, French doors are believed to have originated in France — specifically during the Renaissance period in the 17th century. The design was inspired by the casement windows used in French architecture, which featured multiple panes of glass set into a wooden frame.
French doors were initially used as a way to allow natural light and fresh air into a room while maintaining privacy. Essentially, they still do this today. They quickly became popular in European and American architecture and are now a staple feature in many homes around the world.
Why choose French doors?
French doors have become increasingly popular in recent years, and in an age where trends come and go quickly, the timelessness of staple pieces like French doors is a welcome addition to homeowners who want to maintain style throughout the years. This longevity also makes them a great option if you're looking to sell your home in the future.
So, what makes French doors so popular, and what are their attractive features?
Increased natural light
Since the pandemic, more and more people are choosing to work from home, or on a hybrid-remote basis. And as a society, there has been a greater emphasis on our mental health, and an encouragement to get outdoors (approximately 20% of Brits don't get enough vitamin D).
Not only is natural light great for aesthetics, but it's also a great mood booster. Natural light is beneficial to our mental health, and French doors ensure your rooms get plenty of it. This makes them the perfect addition to your work-from-home office as well as your living space.
Improved air circulation
You can open both sides of French doors, providing double the amount of airflow than you'd get with a regular, standard-sized door. This can bring plenty of fresh air from outside indoors.
Extra ventilation can be particularly beneficial during the summer months when you want to let in a cool breeze and reduce the need for air conditioning. The increased airflow provided by French doors can also help to reduce the build-up of moisture and odours in your home, making it a more comfortable and healthy living environment.
Enhanced aesthetic appeal
There's no denying that French doors are a stylish addition to any home. They add a touch of elegance and sophistication and they can enhance the overall aesthetic appeal of your living space. Suitable for conservatories, bedrooms, living rooms, kitchens, and more, they're delightfully versatile.
They feature a timeless design characterised by their double doors and glass panes, which allow natural light to flood into your home. The traditional French design also often features intricate detailing, such as carved wood or wrought-iron hardware, adding to their aesthetic appeal. You could also consider adding curtains to french doors.
French doors are not only beautiful but also practical by creating a seamless transition between indoor and outdoor living spaces, making your home feel more spacious and connected. Whether your home is traditional or modern, French doors are a classic design element that can enhance its overall aesthetic appeal and increase its value.
Easy access to outdoor areas
Do you want to unite your garden or patio with your indoor living space? French doors provide easy access to outdoor areas. Traditional doors can be restrictive and require manoeuvring around them to step outside. But with French doors, you can enjoy a broader opening.
French doors swing outward or inward to provide a wide and unobstructed pathway between indoor and outdoor areas. This makes it easy to step outside onto your patio, deck, or garden without any obstacles in your way. This easy access to outdoor areas provided by French doors can help you make the most of your living space, allowing you to enjoy the fresh air and natural beauty of your surroundings without any hassle or inconvenience.
Increased property value
Do you want to boost your property's value? Whether you're looking to sell soon or in the future, French doors can add value to your home, making it more attractive to potential buyers. The added functionality of easy access to outdoor spaces, and natural light potential can make your home stand out in the property market, increasing its overall value.
French doors can also help to improve your home's energy efficiency, by reducing your reliance on artificial lighting and providing better ventilation that reduces the need for air conditioning. All these benefits make French doors an attractive and valuable addition to any property.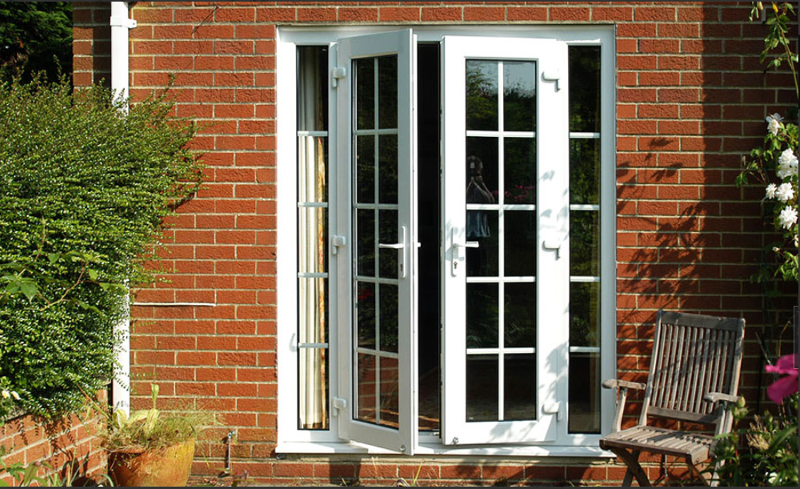 Are French doors suitable for all properties?
French doors are versatile and can be installed in a wide range of properties. They are ideal for homes with a patio, deck, or garden. However, if you live in a city apartment, French doors can create a balcony-like feel by opening up a small outdoor space.
French doors are also a great option for homes with limited space. They take up less floor space than traditional doors, as they swing outward or inward instead of sliding. This means that you can maximise your living space without compromising on style or functionality.
What's the best material for French doors?
When choosing the best material for your French doors, there are several options to consider, including timber, aluminium, and uPVC.
Timber
Wooden French doors are a popular choice for their natural beauty and durability. They are available in a wide range of styles, finishes, and colours, making them a versatile option for any home. Timber doors may require a bit of regular maintenance to keep them in good condition, but they are durable doors with a rustic feel — perfect for any traditional-looking home.
Aluminium
Lightweight, strong, and durable, Aluminium French doors are relatively low-maintenance. They're also available in a variety of finishes, including powder-coated colours, anodised finishes, and woodgrain effects. Whilst they are highly efficient, they may not be suitable for properties with a traditional or period style.
uPVC
French doors made from uPVC are a cost-effective and low-maintenance option. They are available in a range of colours and finishes, including wood grain effects, and they are energy-efficient. uPVC French doors are also easy to install and require minimal maintenance, making them an ideal choice for busy homeowners.
Find high-quality uPVC French Doors at Flying Doors
If you're looking for high-quality French doors in the UK, Flying Doors is your reliable supplier. Our doors are manufactured locally, using premium materials to ensure maximum security, practicality, and aesthetic appeal.
French doors are a great investment for any home, and with our 10-year guarantee, you can buy with confidence. Our doors are made-to-measure to fit any property, and our in-house delivery ensures that your doors are delivered in top condition.
Browse our selection of uPVC doors and feel free to contact us if you have any questions – our team is always ready to help.