4ft uPVC Georgian French Doors
1190mm (W) x 2090mm (H)
£799.99 inc. VAT
10 Year Guarantee
Made in Britain
Need help buying? Call on 01246 914 914 or send a message
Fastest Delivery Online
100% Secure Shopping
Hassle Free Returns
Price Match Promise
Made in Britain
View the Gallery
Here's some examples of our uPVC French Door Range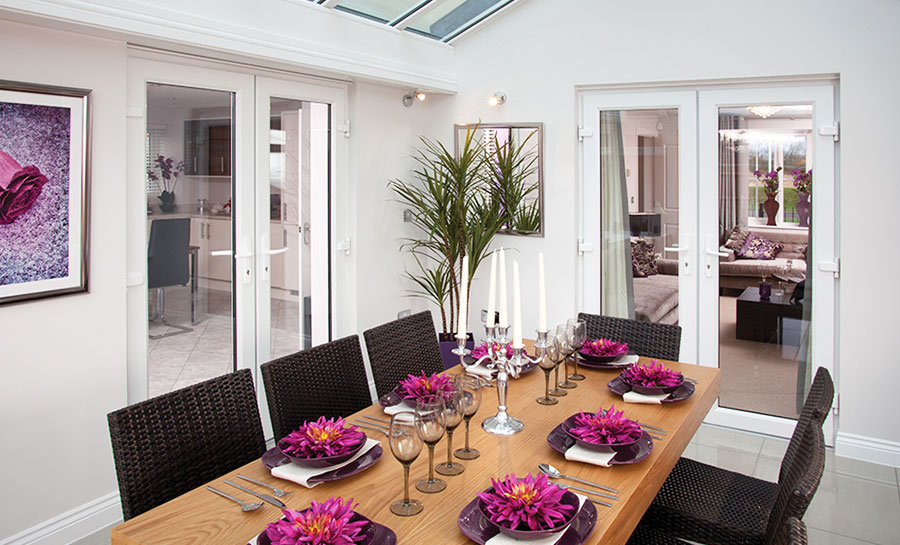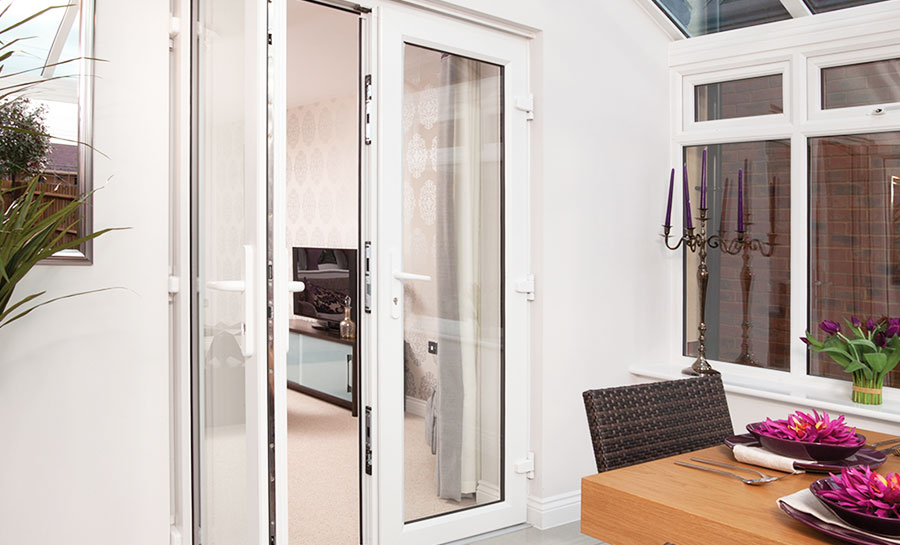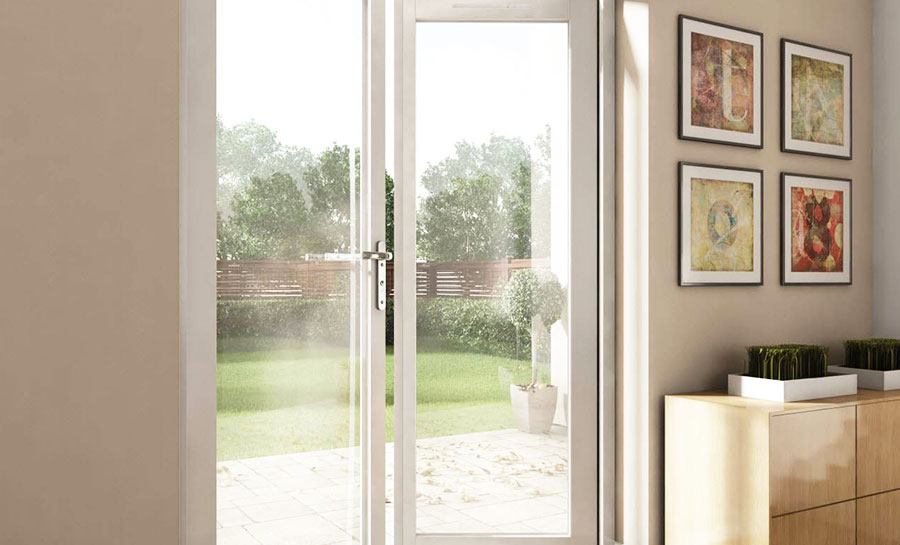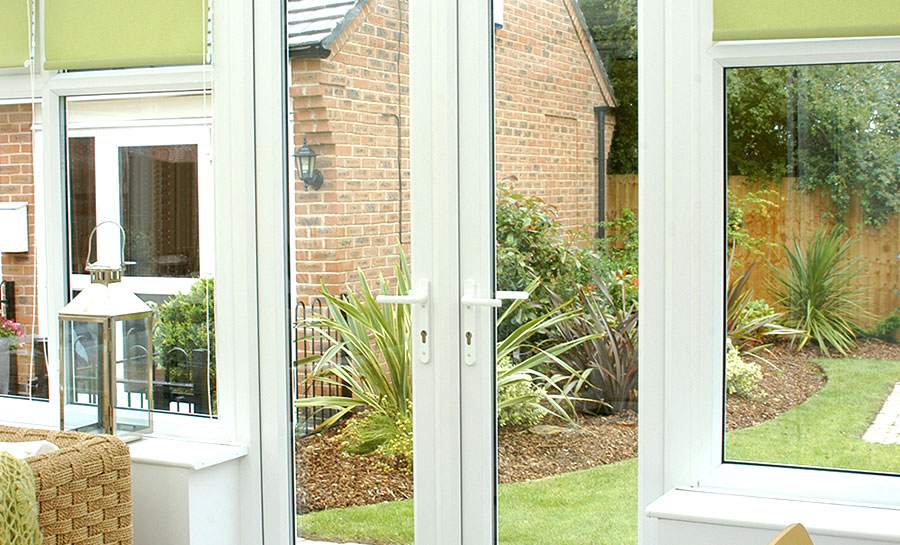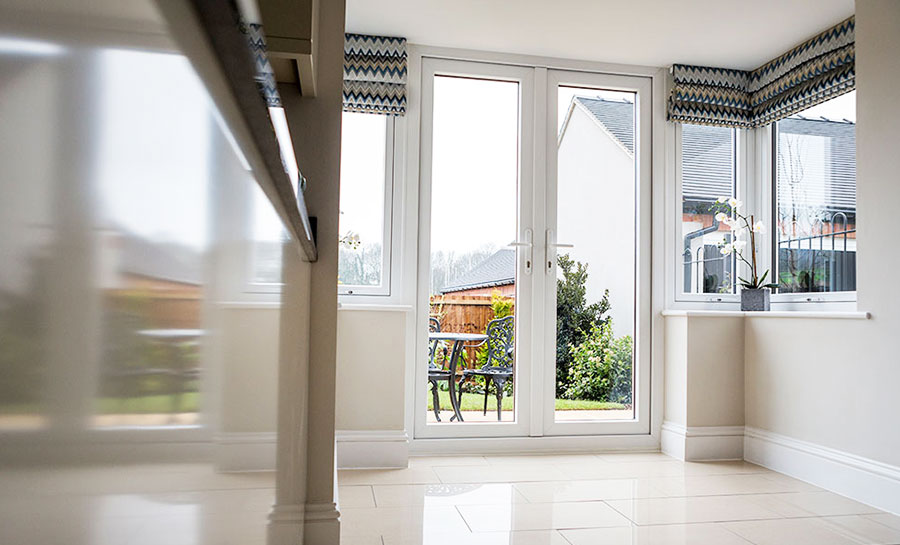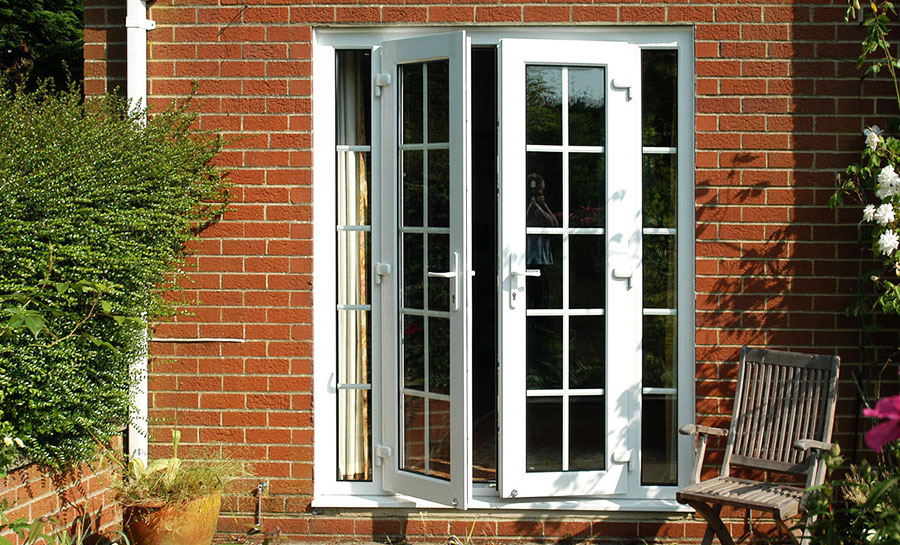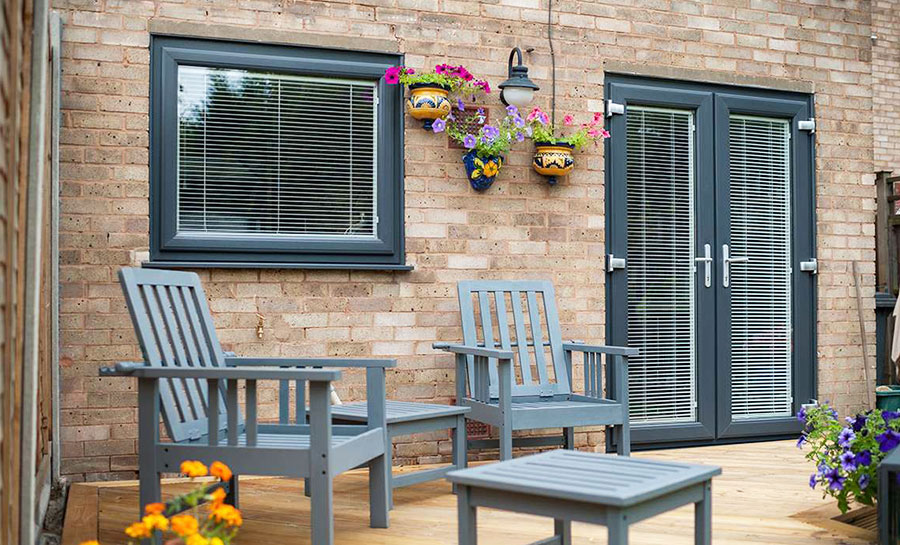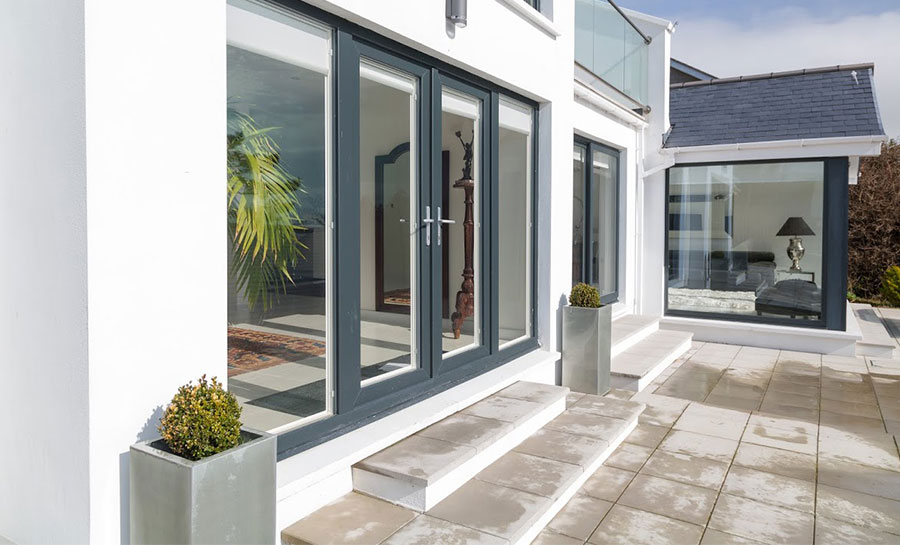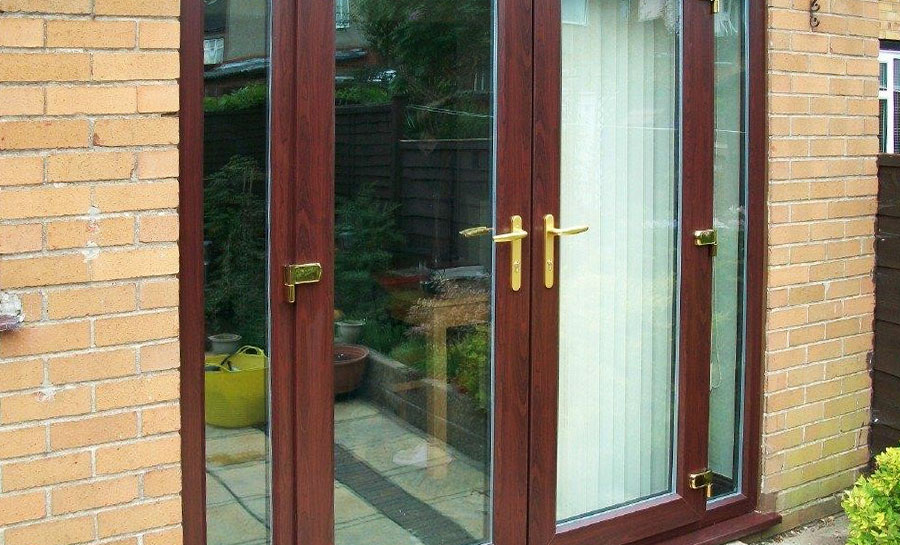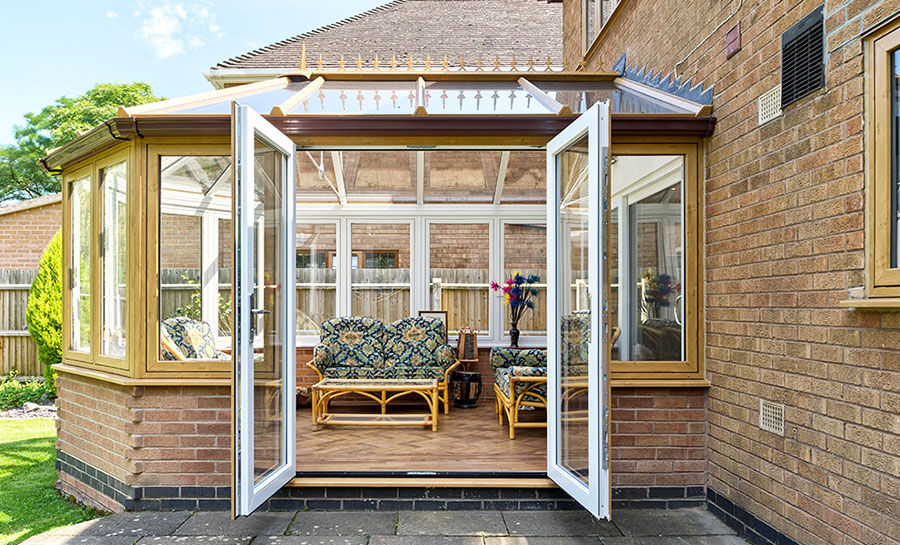 Summary
- Express Delivery
- Manufactured in the UK with 10 Year Guarantee
- 70mm steel reinforced Eurocell PVCu profiles
- 90% argon filled double glazed toughened safety glass
- Internally beaded for improved security
- High security 7 point locking system
- Includes handle, cill, overhead ventilator, cylinder and keys
- 15mm and 25mm extender kits available
Specification
- 4ft uPVC Georgian French Doors
- Our 4ft uPVC Georgian French Doors are 1190mm (W) x 2090mm (H) including a 30mm cill and 40mm overhead ventilator if fitted.
- Perfect for installation in a 1.2m (W) by 2.1m (H) aperture
- Both doors open outwards with left hand door as master (viewed from outside)
- Galvanised steel reinforced Eurocell 70mm uPVC profile
- Includes 90% Argon Gas filled double glazed 28mm toughened Low-E safety glass to BSEN1279 and BSEN12150
- Pre-hung and pre-glazed 6 x 3D adjustable flag hinges
- Combine with our 15mm and 25mm extender kits (per side) to increase overall size if required
- Internally beaded for improved security with a high security 7 point locking system and shoot bolts to slave door
- Part-L building regulation compliant with overall U value 1.5
- Anti-drop device maintains correct door to frame alignment
- Complete unit that includes glass, frame, white handles, cill, ventilator, cylinder, keys and fitting instructions
Service
- Hassle Free Returns
- 10 Year Guarantee
- Manufactured in the UK
- Express Delivery
- Includes Installation Instructions
Reviews
---
Our 4ft uPVC Georgian French Doors have an average rating of

4.8

out of 5.0 based on
24

independent reviews

Ellesse
Excellent customer service! The team was incredibly helpful in assisting me in narrowing down my choice to these lovely new doors. They were also respectful and conscious of my safety concerns during these times. The fitting was prompt and on time. I'd definitely buy from them again.
Verified Purchase
Stacey Mills
I didn't leave a review when I got my doors about 6 months ago but feel I have to after a lovely chat with Sally just now where she was most helpful. Excellent aftercare and customer services, thanks again!!
Verified Purchase
Luke Kingston
Fitted myself with a friend, absolutely no problems at all. Great company, great product and I will be recommending you to all my friends and family in the future.
Azak Asif
great price, excellent product & delivered on time, will use again!
Verified Purchase
Ben Wastie
Great product easy to fit and with concise instructions, great value for money and excellent build quality, can't really say anymore.
Verified Purchase
Paul Glad, Essex
This door looks very good and feels very high quality. There were no instructions with the door but I rung customer services and was sent the installation instructions straight away.
Verified Purchase
H. Bailey
Like other reviewers I can only sing the praises of these doors. When I looked at starting this project I thought I would be looking at around £1000 for a set of double glazed french doors. I was suprised at the price and did wonder about the quality. These are fabulous quality doors even my builder commented on that. Customer service was excellent.
Verified Purchase
Ross Hand
Can't beat it for price and quality, was going for a wooden unit but the thought of repainting every few years (4 grandchidren!) put me off and I'm well pleased with these doors.
Verified Purchase
Tommy Mills
Great doors for the price.Comes with full fitting instructions .Two man job. Very easy to install, just remember that its got a steel frame so you'll need a steel bit to drill through the frame !! Very please with the product and the end result : )
Verified Purchase
Scott Garmin
These doors are well made, simple to fit with excellent instructions for adjustments in all directions so they operate and lock securely. You can't find better, or even similar, doors anywhere else at this price. £50 cheaper than anywhere else I could find including Screwfix, Wickes and B&Q. Would highly recommend.
Verified Purchase
Stuart MacLaine
Doors as expected, quite easy to install and look great in situ. Opening outwards is a great advantage when space a premium.
Verified Purchase
Mr. Proudlock
Great quality doors that pretty much fell in to the reveal. It's all down to three things : preparation, preparation & preparation. Great doors, reasonably priced, some minor niggles, but that's it ! Buy some, you won't be disappointed.
Verified Purchase
Midtaff
This product is well made and comes with a full fitting kit. We had some problems aligning the doors using the built in adjusters but technical helped rectify this. Good value for money.
Lisa Thompson
Website very easy to manover. I also chatted to a member of staff as I wanted to ensure that I had ordered everything I needed for my extension. Very helpful. So far So good....
David Alloway
Great website. Easy to use, clear and concise
Rosaleen Aldridge
Easy to navigate someone on hand to help from 8 until 10pm fount hat very helpful. Lady I spoke to was very polite and infrmative.
Simon Golton
Bought some 4ft and 6ft french doors for extension, very happy customer.
Desmond
You won't beat the quality of these doors for the price, delivered on time with a 2 hour time slot. Excellent website A++
Verified Purchase
Steve Outlook
Quality doors, quality price and quality service - delivered in 3 days. Would recommend flying doors and will be purchasing from them in the future.
Verified Purchase
Mr Bonsall
Didnt recieve a email as stated within 48 hours and had to phone after 3 days of not hearing any thing to be told delivery would be a week later which would make a 10 day delivery not 3-5 as stated on web site . After another phone call it was sorted out promtly delivery was the next day, was given a 2 hour slot it was delived on time . excellent product and quality very pleased after intial disapointment. Need to sort out what they state on website and what they can deliver.
Verified Purchase
Simon Golton
Had 2 French doors delivered 1190mm and 1790mm. The quality of doors / delivery company attitude is 5 stars +. Had to chase flying doors 3 times to confirm when they will be delivered. But this is only minor fault. Would recommend flying doors to anyone thinking of purchasing French doors.
Verified Purchase
Carol Kenny
I want to sat thank you for sorting out the doors we wanted I am very pleased with them one out patio are all finished I will be sending you a picture,
Verified Purchase
Jon Holden
easy to fit, delivered on time and answered all my questions, cheers
Verified Purchase
Chelsea Redfern
Top quality product and great customer service. Ordered the 4ft french doors on monday, rung me to book in my delivery on tuesday and the doors were with me on thursday.
Keywords: 4ft upvc georgian french, upvc georgian french doors