6ft uPVC French Doors
1790mm (W) x 2090mm (H)
£749.99 inc. VAT
10 Year Guarantee
Made in Britain
Need help buying? Call on 01246 914 914 or send a message
Fastest Delivery Online
100% Secure Shopping
Hassle Free Returns
Price Match Promise
Made in Britain
View the Gallery
Here's some examples of our uPVC French Door Range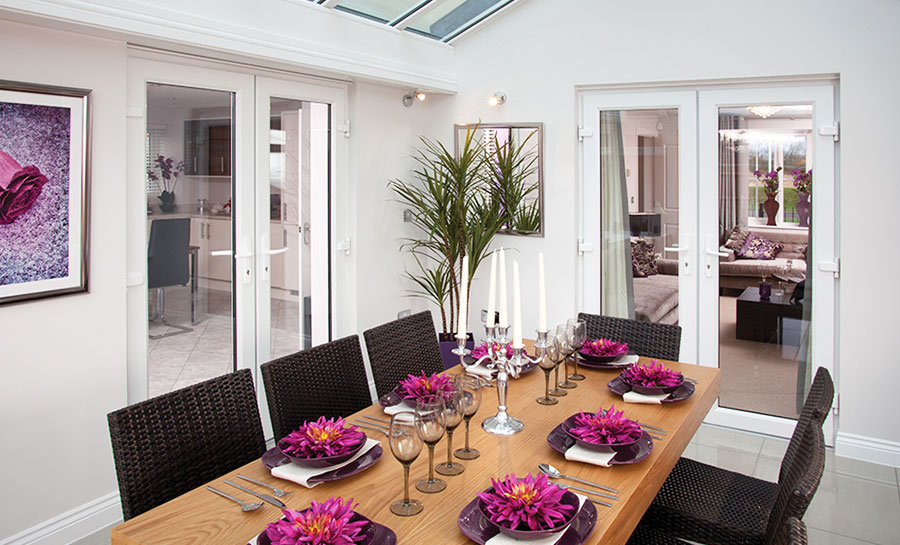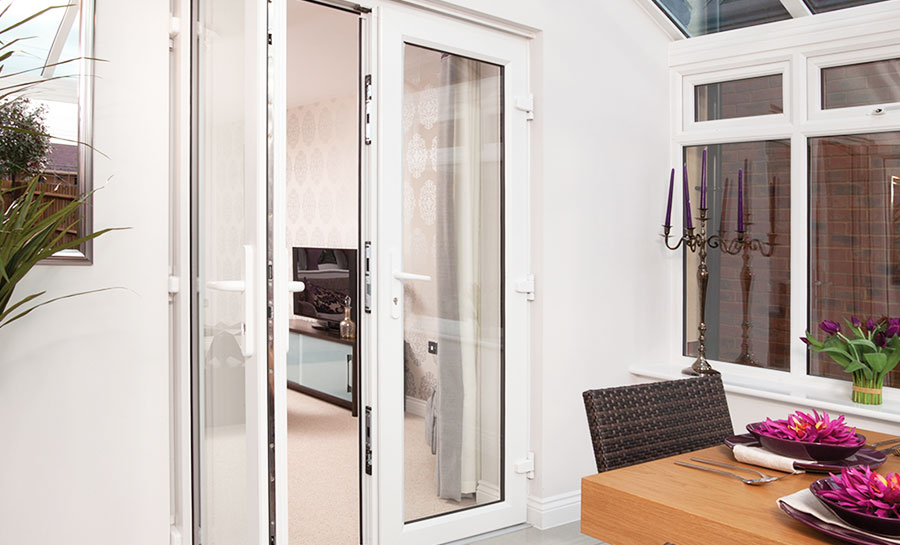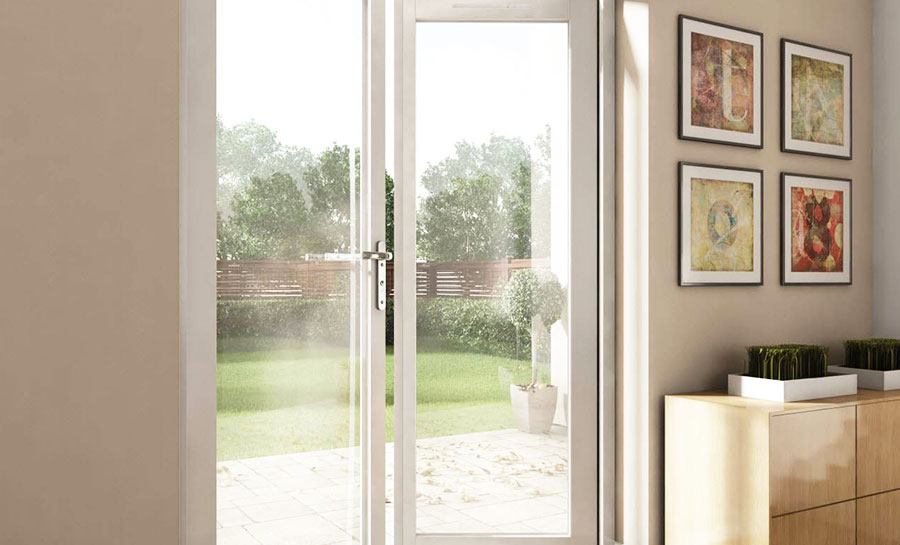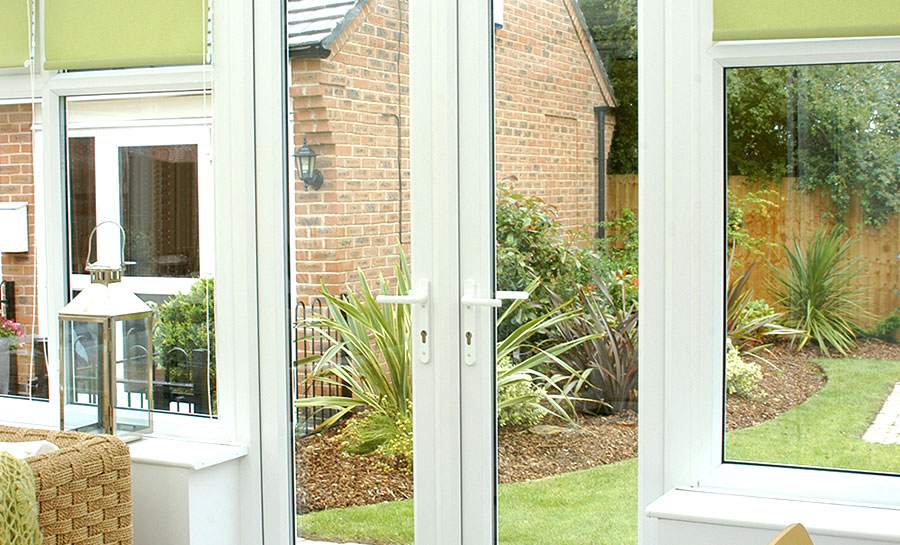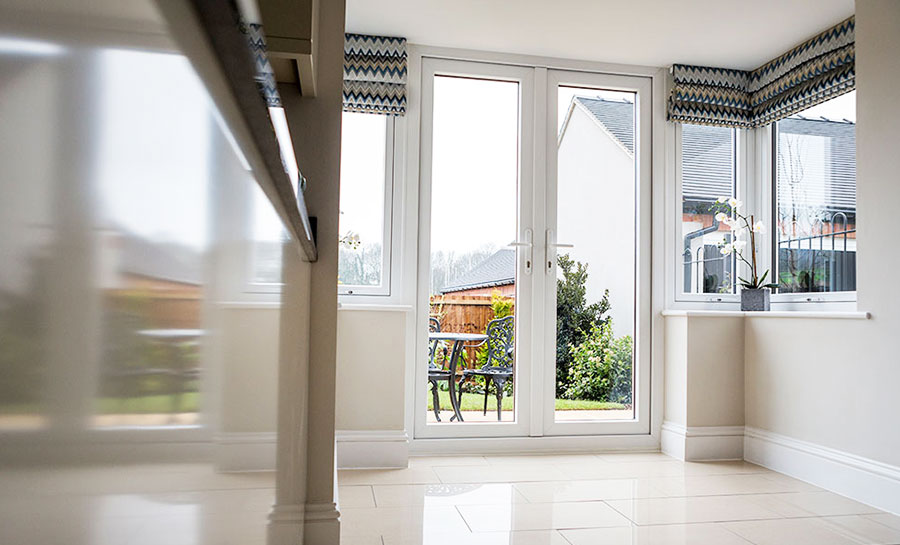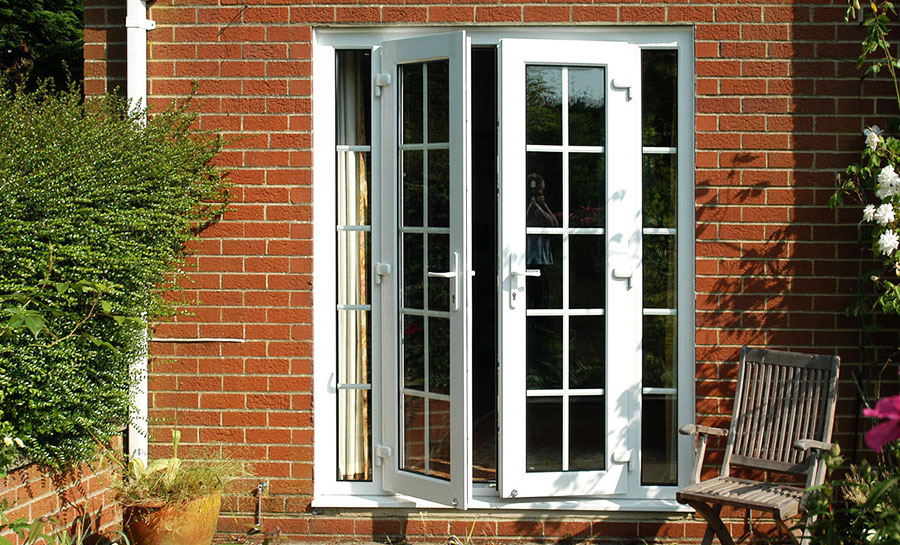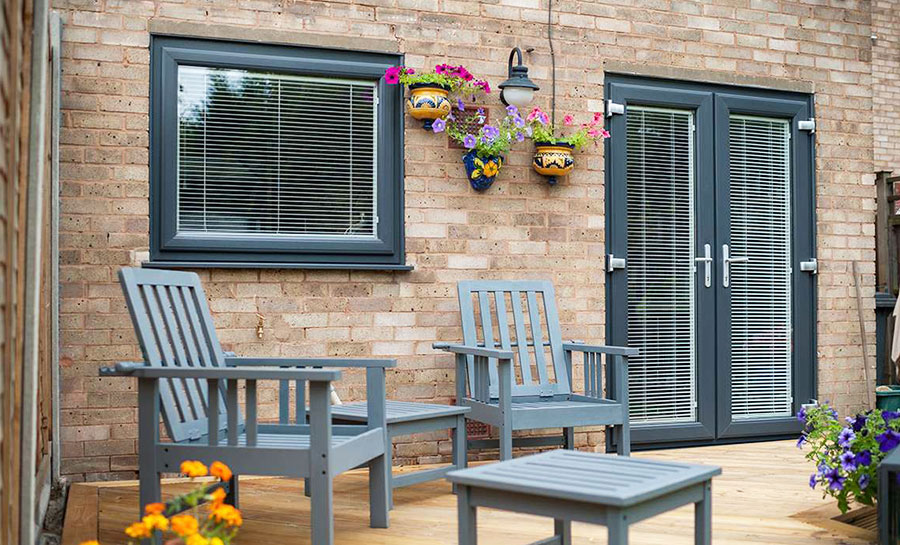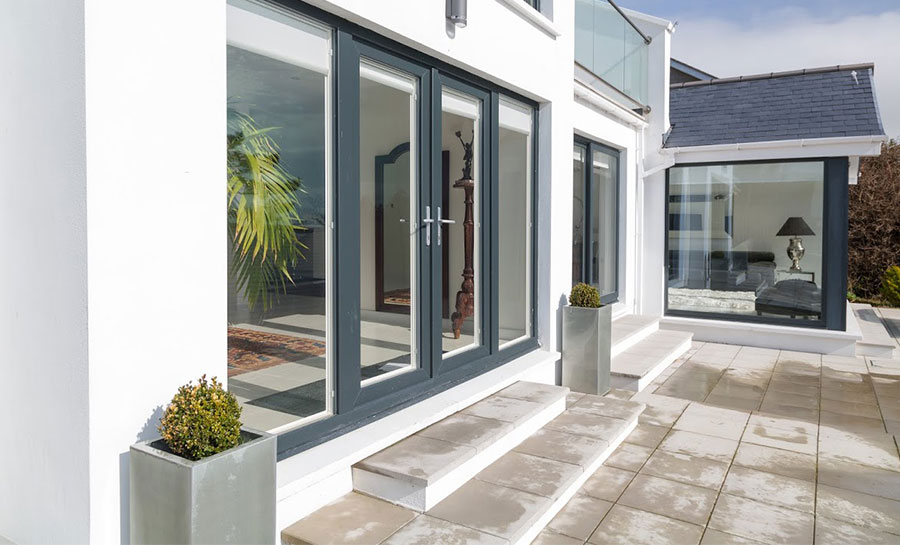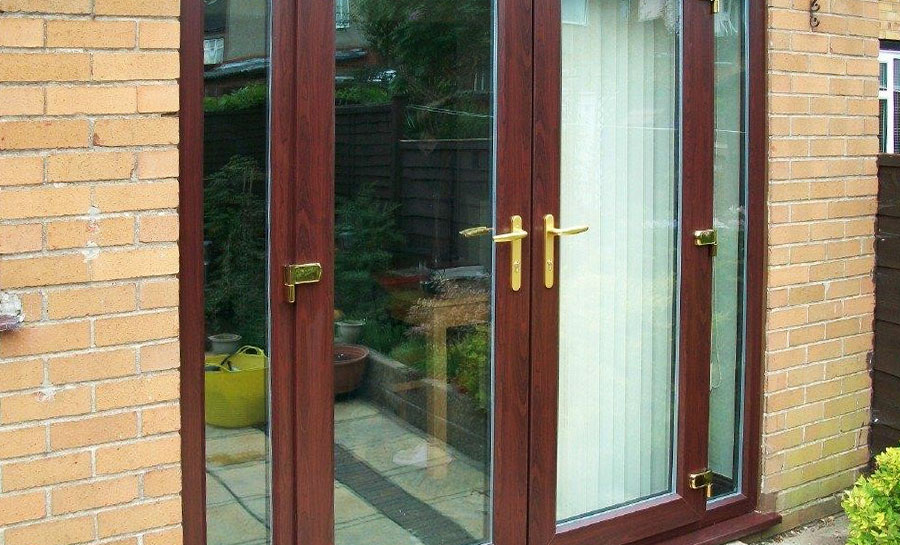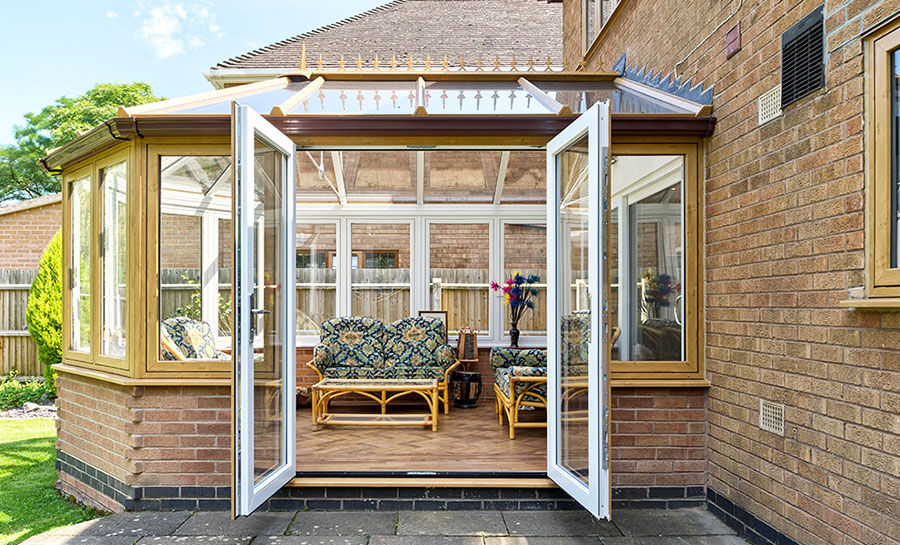 Summary
- Express Delivery
- Manufactured in the UK with 10 Year Guarantee
- 70mm steel reinforced Eurocell PVCu profiles
- 90% argon filled double glazed toughened safety glass
- Internally beaded for improved security
- High security 7 point locking system
- Includes handle, cill, overhead ventilator, cylinder and keys
- 15mm and 25mm extender kits available
Specification
Our 6ft uPVC French Doors are 1790mm (W) x 2090mm (H) including a 30mm cill and 40mm overhead ventilator if fitted. Our 6ft uPVC French Doors are perfect for installation in a 1.8m (W) by 2.1m (H) aperture.
- Our 6ft uPVC French Doors open outwards with left hand door as master (viewed from outside)
- Galvanised steel reinforced Eurocell 70mm uPVC profile
- Includes 90% Argon Gas filled double glazed 28mm toughened Low-E safety glass to BSEN1279 and BSEN12150
- Pre-hung and pre-glazed uPVC French Doors with 6 x 3D adjustable flag hinges
- Combine with our 15mm and 25mm extender kits (per side) to increase overall size if required
- Internally beaded uPVC French Doors for improved security with a high security 7 point locking system and shoot bolts to slave door
- Part-L building regulation compliant with overall U value 1.5
- Anti-drop device maintains correct door to frame alignment
- Complete uPVC French Door unit that includes glass, frame, white handles, cill, ventilator, cylinder, keys and fitting instructions
Service
- Hassle Free Returns
- 10 Year Guarantee
- Manufactured in the UK
- Express Delivery
- Includes Installation Instructions
Reviews
---
Our 6ft uPVC French Doors have an average rating of

4.9

out of 5.0 based on
27

independent reviews

Pam Black
Dear Flying Doors, I just want to thank you for an amazing experience. The doors are excellent quality and fitted perfectly. Mike the installer was just fantastic and the whole experience has exceeded my expectations hugely. From my 1st phone query to ensure I was ordering the right thing, right to keeping me informed of the process, your communication has been spot on and your support fantastic. It's not often these days that I feel so pleased with an online service but your company has restored my faith. Thank you so, so much. ~Pam Black
Verified Purchase
Chris Blackler
Before purchasing the French Doors, I read through many of the reviews that Flying Doors had received, they were spot on ! as the whole process, from ordering to delivery went like clockwork. Its been about 2wks since they were installed, which also went without a hitch, this is why I have to award a 5star rating for excellence.
Verified Purchase
L Williams
Just wanted to say a big thank you for your help and support in supplying beautiful French Doors. My builders initially had a problem with aligning the doors but the quick response, knowledge and support from your customer service resolved the problem immediately. We also needed a small replacement part that may have been broken in transit but again this was dispatched the same day. I am thrilled with my doors and the level of after sales care. I would recommend to anyone.
Verified Purchase
Tom Cail
Bought a set of patio doors a few weeks since, there was a slight problem with one of the doors, you only find out how good a company is when you have to contact them with a problem, the service was superb and all sorted out very quickly and professionally. I have already recommended a friend who has purchased 5 windows and a door. Thank you for the great service.
Dean Rose
Doors are great :) Very happy with how they look.
Verified Purchase
Martin Street
For the price these doors are exceptionally good quality. They were received within the stated delivery time and fitted the same day. Good clear instructions and they look great !!
Verified Purchase
Richard Grundy
Robust, good quality, well made product, with closable ventilation gaps on the top.
Darren Adamson
for the money , a quality french door set that is easy to fit , two people required for some lifting operations , so make sure you have willing friend available .
Jeremy Towerd
Good quality doors, well made, easy to fit and very secure. Excellent replacement or addition.
Verified Purchase
Nicola Mulvey
Very happy with my new doors! Thanks Flying Doors.
Verified Purchase
John McClements
these are good quality doors that meet all of todays building reg's. easy to fit and look smashing., i think they are the cheapest anywhere.
Verified Purchase
Gary West
This door is great, excellent value for money and very well made.
Verified Purchase
Sean Arnell
excellent product. excellent price. a simple to fit, straight forward good all rounder french door set.
Norman Stringer
first time i've used these doors as a builder i have used a lot of dif types but these were very good quality and easy to fit and adjust
Verified Purchase
Carmine Spatola
installed without top vent or cill in a conservatory to replace some old ones, very high quality and even better price!
Verified Purchase
Suresh Naidu
Cheap premium product, this is my second set.
Verified Purchase
Scott Brereton
Can't fault my experience with flying doors. DIY install, few hickups and a missing top vent but tech department helped quickly resolve any issues.
Verified Purchase
Nick Gagg
Bought 3 sets for various customers. Delivery, product , installation nd service top notch.
Verified Purchase
Andre Yuen-Lee
Bought 2 sets of these for an exntension. The quality is really quite remarkable considering they're the cheapest I could find online. Delivered on time, installed easily.
Alistair Robb
Excellent patio door for the price., very well made, very sturdy. Easy to install no problems with it at all and it just looks grand Very pleased all round would highly recommend this product.
Verified Purchase
Mr Singh
very good looking doors,relatively easy to fit by any diyer. it is essential to get the frame level,plumb and square,the adjustable hinges are a bit fiddley three on each hinge. the only problem I had was with the pre-fitted locking keep in the top of the frame it been pre-fitted the wrong way round.
Verified Purchase
Steven Towey
Quoted £2000 for 2 French doors, saw these and thought I'd give it a go. So easy to fit, so easy to adjust, such good value for money. Next project fitting bifold doors.
Verified Purchase
Jason Lovell
Ordered a pair of these French doors online. Received an email telling me that the order had been processed and that I would be contacted by the delivery firm. Got that call 2 days later and arranged a day and time. Got a call from the driver the night before to tell me when he'd be there. Well packed and protected. Installed in a day including removal of the existing old doors - take time to make sure that the frame is installed correctly, screw in the head and cill to avoid bowing - once that's done the doors take 2 men about 5 mins to put on and 15 mins to adjust. I'm delighted with the finished product.
Verified Purchase
Pam
you are true to your name...flying doors! Thank you for sending them so speedily. My very good wishes to you and your Team Pam
Tim Adshead
Excellent product, easy to fit and great quality for this price. Delivery was faultless. Will be buying more
Verified Purchase
Keith
best french doors i've seen, was sceptical because of price. i would recommend them to anyone.
Verified Purchase
Leon Wade
great product, great service and great delivery
Verified Purchase
Keywords: 6ft upvc french doors, upvc french doors